Brandy's story
Wish it was available years ago
Star rating: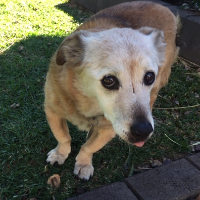 My dog Brandy has suffered some form of arthritis all of her 14 years, we have taken her to vets who put her on medication. She has always suffered pain in her leg and it was difficult for her to walk.
After reading about your product in the papers I decided to try your product called CURCUPET-K9, after 3 weeks or so we have noticed a vast improvement in her mobility, she still has some pain but she gets around and doesn't favour her affected leg so much.
Thank you for your product, wish it was out years ago.